Meet David, A Certified Health and Fitness Coach
At the age of 15, I was first introduced to personal training when my mom got me setup with a local trainer. At that time I was struggling with my weight and self esteem, and I was ready for a CHANGE. My experience with personal training totally changed my life. In a few months I started looking better, feeling better, had more energy, and a new found confidence.
I then knew that it was my calling to help other people change their lives through health and fitness. In 1998, at the age of 19, I became a personal trainer. It has been my passion ever since; to help spread the word of health and fitness throughout the Peninsula and Bay Area. I have trained hundreds of clients ranging from ages10-90, from all walks of life, and goals from weight loss to Sports Performance. It is my objective to get any client I meet to look at health and fitness as a lifestyle; not just something they start every January 1st.
Certified by NASM
David is certified by NASM, the National Academy of Sports Medicine. From 1998-2004 he had worked at a nationally-known fitness center and was named number one trainer, worldwide, three times. He has also won recognition as top trainer in Northern California 12 times.
In 2004 Precision Fitness was created to help share David's passion and commitment towards health and  fitness to help people throughout the Peninsula and the Bay Area. David Bernavich has been a Certified Personal Trainer since 1998, but he actually is  a "Certified Life Changer" based on the success stories he has created. He optimizes your nutrition and workout routine so you will achieve your fitness goals safely and efficiently. He also provides motivation and encouragement to push you to achieve goals you never thought possible and gives you education in all areas of fitness, so you can be successful working out for a lifetime.
David's Specializations:
Lifestyle Management
Weight Loss/ Body Fat Reduction
TRX Training
Kettlebell Training
Core/Stability Training
Sports Specific Training
Balance, Posture, & Body Alignment
Strength and Muscular Development
Benefits From Training With David:
Faster Results
Education and Experience in All Aspects of Fitness
Learn Correct Form While Exercising to Prevent Injury
Weight Loss/Body Fat Reduction
Improved Self-Esteem
Better Nutrition and Fitness Habits
Improved Posture and Core Strength
Mental Clarity / Stress Relief
Improved Stamina
Improved Mobility, Flexibility, Stability, and Balance
Sounder Sleep
Improved Strength / Muscle Tone
Enhanced Sports Performance
Improved Quality of Life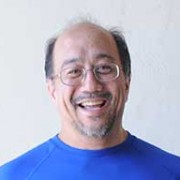 I've been working with David as my personal trainer for slightly more than a year (since April 2013), have lost about 80 pounds so far, and am in probably the best shape of my life (which may not be saying much).  Last year I finally decided that it was time to focus on my health.  I chose David because of his background and he knows what it is like to be heavy.