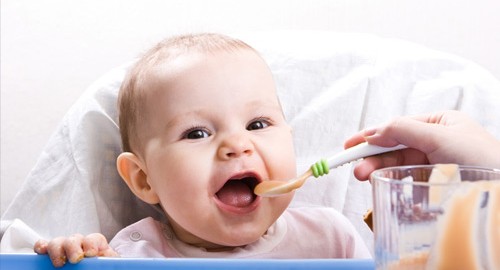 Childhood Diet Habits Set in Infancy, Studies Suggest
By CATHERINE SAINT LOUIS
Efforts to improve what children eat should begin before they even learn to walk, a series of nutritional studies published on Tuesday has found. Taken together, the data indicate that infant feeding patterns persist far longer than has been appreciated.
"Our early taste preferences, particularly for fruits and vegetables, and on the flip side for sugary beverages, are lasting," said Dr. Elsie M. Taveras, chief of the division of general pediatrics at MassGeneral Hospital for Children in Boston, who was not involved in the new research.
"These studies are suggesting that in terms of diet quality, the die might be cast in the first year," she added.
The package of 11 studies was published in the journal Pediatrics and was funded by the Centers for Disease Control and Prevention and the Food and Drug Administration, among others. Investigators tracked the diets of roughly 1,500 6-year-olds, comparing their eating patterns to those observed in a study that followed them until age 1.
Previous research has shown that taste preferences are developed in infancy. Yet until now it was unclear how infant diets bear on what children prefer to consume years later, once in school.
As it turns out, "when infants had infrequent consumption of fruits and vegetables, they also had infrequent consumption at 6," said Kelley Scanlon, an epidemiologist at the C.D.C. and the senior author of a few of the new studies.
Dr. Scanlon and her colleagues suggested that it is best to interest children in fruits and vegetables by late infancy — roughly between 10 and 12 months old.
Their analysis took into account factors that could skew results, like race, family income and breast-feeding. Other factors may play a role in establishing a child's diet patterns, such as whether a child fears trying new foods, said Catherine A. Forestell, an associate professor of psychology at the College of William and Mary, who researches eating habits from infancy to adulthood.
Still, Dr. Scanlon's finding emphasizes the importance of exposing infants to a variety of fruits and vegetables as they make the transition to table food.
"I do believe in the importance of the early experience," said Dr. Forestell, adding that it is crucial for parents "not to be deterred by an initial negative response."
In a 2007 study by Dr. Forestell, infants who were offered green beans for the first time squinted and wrinkled their noses. But these young critics willingly opened their mouths to try another spoonful if parents persisted, she said.
Another study in the new series found that babies who consumed any amount of sugar-sweetened beverages were two times more likely to drink them at least once daily at age 6. A third study found that infants ages 10 to 12 months who were given sugar-sweetened beverages more than three times a week were twice as likely to be obese at age 6 than those who consumed none as infants.
It is not clear what impact breast-feeding might have on a child's later diet. A mother's eating habits are reflected in the taste of her breast milk, providing a "flavor bridge" that eases her baby's transition to the foods she ate regularly while nursing.
Breast-fed infants are more accepting of new foods than babies who drank the same-tasting formula day after day, research has shown. A C.D.C. study in the new series found that children who were breast-fed were more likely to consume water (versus sugar-sweetened beverages), fruits and vegetables at age 6.
Cria Perrine, an epidemiologist at the C.D.C., and her co-authors concluded one additional perk of breast-feeding may be an "improved child diet."
Recent research that took into account economic and cultural variables has thrown into question whether breast-feeding protects against obesity into the preteen years, Dr. Taveras said. But a strong relationship between breast-feeding and protection against obesity up to age 3 has been documented. Dr. Perrine's study suggests one way breast-feeding might protect against early obesity, Dr. Taveras said.
Some experts argue that parents lack consistent guidance on how to interest infants in unfamiliar, often bitter vegetables. The task is made tougher by the fact that infants do not need repeat exposures to become enamored of sweet and salty foods.
"We don't do a very good job of teaching parents about good nutrition in infancy," said Deanna Hoelscher, the director of a center for healthy living at the University of Texas School of Public Health in Houston.
In March, a research review published in The American Journal of Clinical Nutrition called for separate dietary guidelines for infants and toddlers. Currently, the Dietary Guidelines for Americans makes recommendations only for ages 2 and older.
It may not be obvious to parents, for example, that noncarbonated drinks with added sugar, like cranberry juice cocktail, should be avoided in the first year. Dr. Sohyun Park, a C.D.C. epidemiologist and the lead author of a study in the journal, noted that 27 percent of the infants studied had been fed sugar-sweetened beverages.
Indeed, nearly 9 percent were fed them before 6 months of age. Yet the American Academy of Pediatrics recommends only breast milk for the first six months or, alternatively, formula.
Still, all is not lost for parents who failed to feed their infants puréed green beans, Dr. Forestell said. But there is a catch. Children tend to sample, say, brussels sprouts more readily when they see adults eating them, too. "It's not just changing your children's diet," Dr. Forestell said. "It's changing the whole family's, and that's the kicker, isn't it?"
https://precisionfitness.org/site/wp-content/uploads/2014/09/baby-eating-detail.jpg
333
500
dbernavich
https://precisionfitness.org/site/wp-content/uploads/2014/07/colorlogow-o-tag1.png
dbernavich
2014-09-04 19:13:36
2014-09-10 20:45:20
Childhood Diet Habits Set in Infancy, Studies Suggest